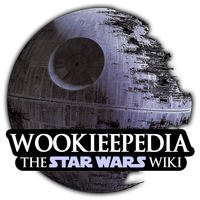 Wookieepedian of the Month is an award given to outstanding Wookieepedians each month. To nominate someone, please list the editor's username below and explain why you are nominating them. Users who are eligible to vote will then review the nominations, vote for a nominee, and an administrator will present the award on the 1st of the following month.
Some general rules for the nomination process:
Try to nominate someone who has not received the award before. Nominations for those who have won the award within the past six months will be dismissed.
Please vote only once, and only vote for another user. Duplicate votes, self-votes, and self-nominations will be removed.
Voting ends at 0:00 UTC on the first day of the month. Nominations for the next calendar month may be placed as soon as the winner is announced.
The nomination process is pursuant to the Wookieepedia Consensus policy. Administrators can find instructions for closing the vote here.
Congratulations goes to our most recent winner, NBDani, for January 2022! See History for a complete list of past winners.
For the first nomination of 2022, I'd like to put forth Givinname! For those who are unaware, Givin was one of the Discussions moderators until they resigned recently, and have been a massively positive force on that side of the site, helping keep things running smoothly. Humble as well, when I approached Givin about this nomination, he asked that I also frame it as a way to help showcase the positive things discussions bring to the site, and the incredible work everyone does over there. Shoutout to you Givin, and to all those on the discussions side! Supreme Emperor Holocomm 05:17, 1 January 2022 (UTC)
Support
Supreme Emperor Holocomm 05:17, 1 January 2022 (UTC)
I can think of no one more deserving Wookieepedian of the Month. Truly, I would not be the Wookieepedian I am today without Givinname's guidance and friendship. He is by far the best Discussions moderator to ever serve Wookieepedia. He is an incredible dude. MTFBWY! Jade Moonstroller (talk) 05:22, 1 January 2022 (UTC)
VergenceScatter (talk) 07:02, 1 January 2022 (UTC)
Nostalgia of Iran (talk) 16:03, 1 January 2022 (UTC)
A cunning moderator and a good friend. I can't remember if this comment was from the forum or said in private, but someone said it best that his leadership was so strong that he needn't worry about anything degrading once he left. His contributions to the community will forever stay. Jedi Sarith LeKit (talk) 21:28, 1 January 2022 (UTC)
Ayrehead02 (talk) 01:45, 2 January 2022 (UTC)
01miki10 Open comlink 02:08, 2 January 2022 (UTC)
Andykatib 08:22, January 2022 (UTC)

Braha'tok enthusiast

Hello there

10:24, 2 January 2022 (UTC)
Chrisgross14 (talk) 10:03, 8 January 2022 (UTC) This nomination, I believe, will be a touching, but solid reminder of Giv's outstanding work for the community.
Oppose
Comments